Example Listing
Boasting an expansive 180-degree vista, this elegant townhouse offers an ever-evolving, picturesque tableau. Encompassing a vast expanse that includes Lake Wakatipu and the majestic, snow-clad Remarkables Mountain Range, the scenery unfolds from Frankton to Kelvin Peninsula. Relax and enjoy the passing boats as they grace the waters. The residence features three generously proportioned double bedrooms and two meticulously tiled bathrooms for your comfort.
The heart of the home is the open-plan kitchen, dining, and living space, distinguished by its lofty ceilings and captivating, panoramic windows. Here, you can bask in the grandeur of the surrounding landscape while also relishing the view from the balcony. Parking is a breeze with two designated off-street spaces, and for those balmy summer evenings, a barbecue awaits in the tranquil courtyard.
This remarkable townhouse is a sanctuary for those seeking not just a place to stay but an experience, where nature's ever-changing spectacle becomes an integral part of your daily life.

PROPERTY RENTAL COST
$300-$660 per night

STRUCTURE
Townhouse

GREEN SPACE
Outdoor Courtyard

ACCOMODATION
1 King, 1 Queen, 1 Set Singles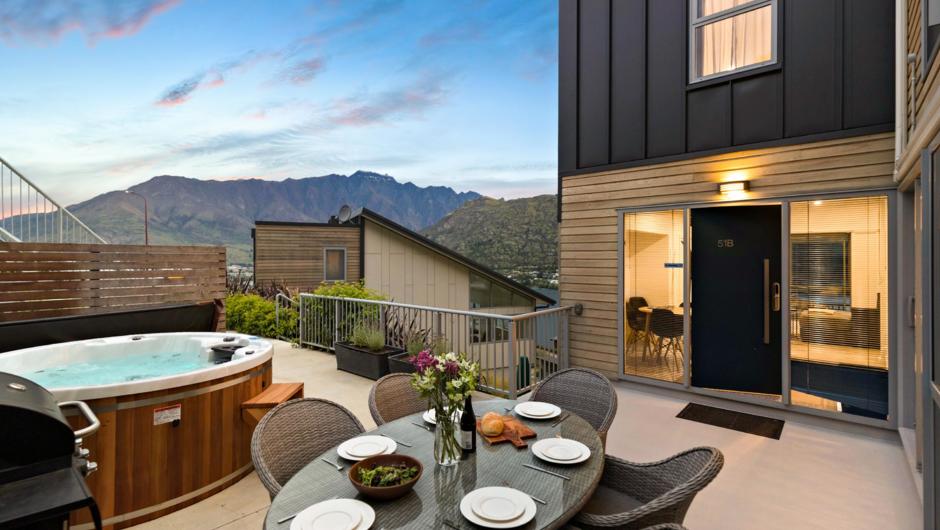 Travel Tips
---
How to Choose a Holiday Home in New Zealand
New Zealand's breathtaking landscapes, from the snow-capped Southern Alps to the pristine beaches, make it a prime destination for a memorable vacation. When planning your trip to this picturesque country, one essential decision to make is choosing the ideal holiday home rental. Here's a guide to help you find the perfect accommodation for your New Zealand getaway.
Location is Key:
Consider where you want to stay in New Zealand. Whether it's the bustling city of Auckland, the adventure hub of Queenstown, or a tranquil coastal town, your rental's location should align with your vacation goals. Make a list of attractions and activities you want to explore, and then find a rental that offers convenient access to those places.
Budget and Amenities:
Set a budget for your accommodation and stick to it. New Zealand offers a wide range of holiday homes, from cozy cottages to luxury villas. Choose a rental that not only fits your budget but also offers the amenities you desire. This could include a fully-equipped kitchen, a private pool, or stunning views of the surrounding landscapes.
Size and Style:
Consider the size of your travel party and the style of the holiday home. If you're traveling with family or friends, opt for a larger property with multiple bedrooms. Additionally, your preferred style – whether it's modern, rustic, or traditional – should align with your personal taste.
Read Reviews:
Before making a reservation, read reviews from previous guests. This can provide valuable insights into the property's condition, cleanliness, and the responsiveness of the host or property manager.
Lastly, be aware of local regulations and rules regarding holiday home rentals. Some areas may have restrictions on short-term rentals, so ensure you're booking a legal property.